The DWP has launched a consultation paper on occupational pensions that will consider cuts to inflation proofing, how final salary schemes are valued and what investment strategies they follow and greater responsibilities for pension scheme trustees.
The consultation is also considering giving greater powers to The Pensions Regulator and strategies for consolidating occupational schemes.
Former pensions minister Steve Webb has slammed the proposal to curtail inflation increases as 'worrying' and described the outline of plans for more powers for TPR as 'timid'.
The consultation, Security and Sustainability in Defined Benefit Schemes, will examine whether different reporting requirements for DB schemes would encourage them to take more risk in their investment strategies. The proportion of DB investments allocated to UK equities had declined to 30.3 per cent by 2016, compared to 61.1 per cent in 2006, according to TPR's Purple Book. The government is also expected to use the consultation to explore ways of increasing pension scheme investment into infrastructure projects.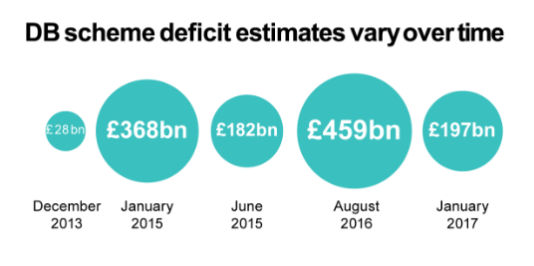 The government is expected to explore the possibility of introducing an 'aggregator scheme' which could take on the assets and liabilities of smaller DB schemes. There are around 40,000 private sector pension schemes in the UK, with over 2,000 DB schemes having fewer than 100 members.
DWP secretary of state Damian Green says: "We all have a responsibility to ensure the system works in the interests of everyone – employers, schemes and scheme members. This consultation is for all of those with an interest in effective, efficient and well-functioning DB schemes to reflect on the issues that the sector faces and to start an informed discussion on the best way forward.
"This Green Paper sets out the evidence we have available about the key challenges facing DB pension schemes and highlights a number of options that have been suggested to us to improve confidence in the system.
"Through this Green Paper, we want to hear from as many people as possible. In order to ensure a balance between member protection, sustainability and affordability of these important pensions we want to continue the debate and to start building a consensus on what, if anything, we should do to further support the sector."
Hargreaves Lansdown head of retirement policy Tom McPhail says: "The UK's occupational pension system is one of the best in the world. However it isn't as good as it used to be and it has struggled in recent years to adapt to a world of rapid economic, social and demographic change. This government consultation is vital if we are to ensure that we have a pension system fit for the 21st Century.
"Section 67 of the Pension Schemes Act 1995 means that once a promise of benefits has been made, it cannot be taken away again. So modifying past promises is nigh on impossible. Just about the only option is to tweak the inflation proofing applied to members' benefits in retirement."
Royal London director of policy Steve Webb says: "This must be one of the 'greenest' Green Papers in living memory. Despite months of public debate led by the Select Committee and the pensions industry, the Government's own thinking does not seem to have advanced significantly. Given the years that can elapse between floating ideas in a Green Paper and implementing them on the ground, the lack of firm proposals is disappointing. Even in the area of trying to avoid a repeat of the BHS fiasco, the Green Paper is remarkably timid on the idea of giving the regulator more power to challenge takeovers which could damage a pension scheme.
"The most worrying proposal is to allow certain schemes to 'suspend' annual pension increases if money is tight. With rising inflation, annual indexation is an important part of protecting the living standards of the retired population. There is a significant risk that relaxing standards on inflation protection with the best of intentions for exceptional cases could be exploited and lead to millions of retired people being at risk of cuts in their real living standards."