UK-domiciled investment funds are less likely to have independent governance controls than supposedly 'Wild West' Cayman Island funds, a report from LCP has found.
The report, based on a survey of 290 investment funds, found 56 per cent of UK domiciled investment funds used by pension schemes have no independent directors, compared to just 20 per cent of overseas schemes.
LCP says that despite the UK's leading reputation for fund governance, the jurisdiction lags behind when it comes to safeguarding the interests of pension scheme and individual investors.
The report admits it has less data on funds in the Cayman Islands and other off-shore venues, but argues the data it does have suggests that independence
is far more common in Cayman Island domiciled funds. The report says 'these offshore fund centres are usually regarded as the "wild west" of investment funds, but in respect of fund governance they look ahead of the UK'.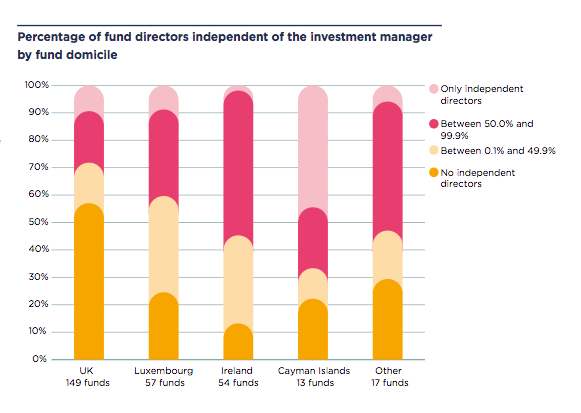 The research found that unit trusts are more likely to have independent governance structures than Oeics or life funds.
In the report LCP calls for a higher proportion of independent directors across investment fund boards. It proposes that OEICs should appoint individual directors, rather than a corporate director, an approach commonly used in Ireland, the Cayman Islands and Luxembourg. It also calls for fund boards to do more to ensure they are acting in the interests of investors by assessing whether investors are getting value for money from the management of their investments. It calls for fund boards to undertake fee comparison exercises and put pressure on all the service providers to provide better value for money.
LCP parner Matt Gibson: "Perhaps counter-intuitively, the UK scores worse than overseas jurisdictions for independence. Historically, we feel there has been a degree of reputational complacency on the part of the UK.
"Funds should look at appointing a higher proportion of independent directors and undertake fee comparison exercises to ensure value for money from all service providers."
An IA spokesperson says: "The IA supports the highest standards of fund governance. As a way to ensure that customers can access products that they judge to be good value for money, we set out how greater clarity of objectives and of fees and costs, can be brought together with new product governance requirements in the context of the duty of care to unit holders. We also consider how the exercise of that duty can be best subjected to effective challenge. The answer is likely to lie with a proportionate approach, drawing on European fund governance models, rather than importing models from other parts of industry, domestically or internationally."